The Enduro-2022
The end of the MmMYC sailing season has rolled around once again, but there was one more race to be sailed.
To those unfamiliar with this annual ritual, the Enduro is a race with one start followed by one finish 4 hours after the start. That's right! It's continuous sailing with no holds and no breaks for anybody, or for any reason. Battery changes, boat rescues, lunches, etc. all have to take place while everybody continues sailing and collecting laps. The course is laid out so that it is fairly long, with 6 marks to be rounded (4 taken to port and 2 taken to starboard). Scoring is aided by a gate between the two inside marks and all boats must pass through it, on each lap, for the lap to be counted. The person that is still sailing at the end of 4 hours, and has the most laps, wins.
It may sound like a free-for-all but the rules of sailing still apply, except that we allow the marks to be touched as long as they are rounded on the proper side.
The most interesting rule is that a skipper may sail any boat they want (or have), except Wheelers and the big J's. There seems to be two essentials for winning the Enduro: One is sailing clean – it's much slower to complete the course and collect laps if you are doing penalty turns or tangled up with another boat. The other essential is boat/sail selection. The wind at Rosemary is always fluky/variable; sometimes it's fluky/variable high and sometimes it's fluky/variable low. Sometimes there are weeds and sometimes there aren't. So, the question is always, '…should you sail a bigger boat or a smaller boat…'; '…a heavier boat or lighter boat…'; '…a boat with a full keel or boat with a fin keel…'? You just never know what the winning combination will be at any given time. Past Enduros have been won by IOM's, Classic Marblehead's, Modern Marblehead's, EC12's, 10-Rater's and a Canterbury J.
In past years there has only been one winner and it was usually the largest boat that could stay on the water for the full 4 hours. This year, since we have so many new skippers, most of whom have DF95's or Soling's, we decided to split the fleet into "Over-40" and "Under-40" hull lengths. They all sailed at the same time, they were just scored differently.
Early wind forecasts for Rosemary Lake were in the mid-teens, which were a little higher than normal, but not a big deal. However, on the day of sailing, the forecasts jumped to winds gusting up to mid-20's! Uh-Oh!
The sailing was now a matter of boat control in high gusty winds and water-tight integrity. Both of which turned out to be something of a challenge for skippers old and new. There were plenty of nose-dives, knock-downs, round-ups…you know the high wind drills.
Fifteen boats started the regatta, and by lap 2, electronics started failing due to water ingress. Apparently, it was not always possible to put enough tape, in enough places to keep water out in these wind conditions.
It was a great struggle for skippers, but also a great show for spectators.
It was good fun watching the top boats in each category compete. There was a lot of back and forth, and it was not a given as to which boats were going to come out on top, especially in the Over-40 category.
If there is such a thing as a "nail-biter" at the Enduro, this year it was in the Over-40's. The top two boats were trading places during the entire race. Later in the regatta, the Pinter had to be rescued and the 10-Rater was able to gain a couple of laps until the Pinter got back on the water. This seemed to make the 10-Rater a sure thing, until it started having control problems.
With an hour to go, the 10-rater started occasionally wandering off course and doing odd, un-necessary circles. We all watched as the 10-Rater control issues got worse and worse. Then the Pinter started making up ground.
In the last 30 minutes, the Pinter had advanced and was on the same lap as the 10-Rater, but about 3 marks behind. We all watched as the 10-Rater finally failed to turn around one of the far marks and headed off the course. The wind was a little calmer at this time, so we all watched the clock and the Pinter. If the Pinter could turn around the mark that the 10-Rater missed, the Pinter would win.
When time ran out, the Pinter was only a few yards away from the missed mark and the 10-Rater held its lead. Great racing guys!
As always, many thanks to our score-keeper, Cheryl Titus.  Watching and listening to us for 4-hours is not easy.
Under-40
Skipper
Boat
Laps
Herb Dreher
IOM
35
Al Fearn
S1M
33
Nathan Bryant
DF95
33
Peter DeWolfe
DF95
31
*
Guy Washburn
US1M
30
Chris O'Brien
DF95
25
*
David Messina
DF95
24
*
John Martin
US1M
9
*
John Lamport
US1M
2
*
Over-40
Skipper
Boat
Laps
Rick Gates
10-RATER
38
Rick Laird
M
38
Greg LaPlante
EC-12
31
Paul Mercer
Star 45
12
*
Jim Linville
VM
4
*
Cliff Martin
VM
4
*
* Did not Finish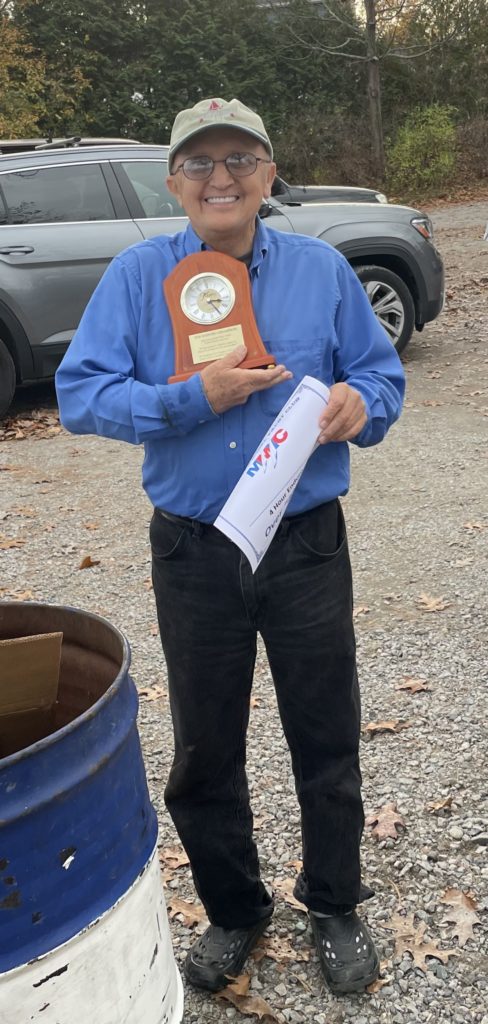 Rick Gates and Herb Dreher – 2022 Enduro Champions