Our club members sail many different classes of remote-controlled sail boats. The three most popular classes with MmMYC are: Soling 1 Meter, US 1 Meter, and the Dragon Flite 95. Our racing schedule has each of these classes being raced once each month. Other classes sailed on a more informal basis are: Star 45, Footy, EC12, 10 Rater, and Wheeler. Descriptions of these boats can be found below.
The club recommends that new members select the DF95 as their first boat. It is a low-cost, entry level, one design boat. It is available as an easy-to-assemble kit. Everything needed to have a race ready boat is provided in the kit for about $400. www.radiosailing.net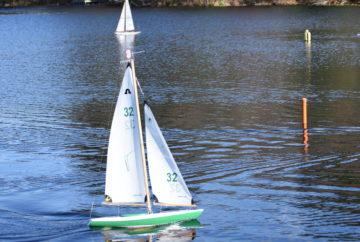 The Soling One Meter Class was introduced to the AMYA in 1993. Since that time it has become the largest class in the organization, with just over 3100 boats registered in early 2013. The Soling One Meter also qualifies in the open design US One Meter Class.