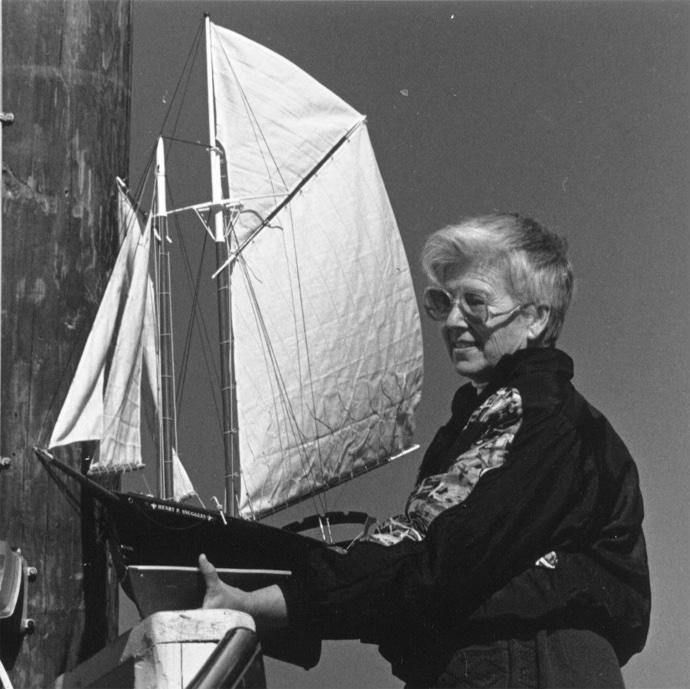 Susan Linville Memorial Regatta
Susan Linville was an integral part of the Minuteman Model Yacht Club beginning in 1983 when she discovered RC Modeling and dragged her Husband, Jim, to Rosemary Lake to "check it out", until the day breast cancer took her from us in 2000.
While many people do many things well, Susan did almost everything superlatively. She was a talented artist who studied at the Instituto de San Miguel de Allende in San Miguel de Allende, Mexico, and who earned a master's in fine arts from the School of the Art Institute in Chicago.  She then went on to become a very successful graphics designer.
Her love of sailing began when she learned to sail as a Mariner Scout. This continued and ultimately led to her building and sailing her own RC boats (Soling and US1M). She was a fierce competitor who once finished second in the 4-Hour Enduro sailing her Soling "Snaggletooth." She knew the Rules of Sailing, and on the pond she asked for no quarter and gave none.
When Jim took over as editor of the Minuteman Club Newsletter, Sue stepped up and contributed her creative talents to the task. Our members and everyone who received the Newsletter enjoyed the benefits of her superb work. Her combination of sharp wit, sophistication, and clear eye have contributed immeasurably to the quality of our publications and our club's public image.
At the Club's January 2001 Winter meeting a member (Rick McKinney) made the motion for the club to hold an Annual Susan Linville Memorial Regatta. It was approved unanimously.
The Susan Linville Memorial Regatta has become a popular part of Minuteman tradition. Her Husband made the Perpetual Trophy. Susan collected Rubber Duckies and Jim continues to provide the coveted Rubber Duckie "keeper" trophies.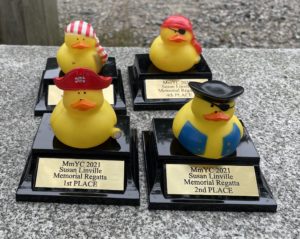 Sue Linville was a talented artist, a loving wife, a worthy sailing competitor and a good friend to the Club.
2020 – Cliff Martin
2021 – Peter DeWolfe
2022 – Peter DeWolfe
2023 – Herb Dreher

2024 –
2025 –
2026 –
2027 –
2028 –
2029 –
2010 – Cliff Martin
2011 – Jim Linville
2012 – Pat Butterworth
2013 – Pat Butterworth
2014 – Herb Dreher
2015 – Pat Butterworth
2016 – Herb Dreher
2017 – Cliff Martin
2018 – Cliff Martin
2019 – Greg Vasileff
2000 – 
2001 – Ben Pratt
2002 – Ben Pratt
2003 – Herb Dreher
2004 – Cliff Martin
2005 – Al Fearn
2006 – Colin Mosgrove
2007 – Colin Mosgrove
2008 – Jim Linville
2009 – Cliff Martin